Dave Hingerty
'Dying' to take photos (Happy 1st Birthday to the blog.... no.38!)
July 07, 2023
"Don't you stick your finger up to me or I'll break every fuckin finger in your body", said the taxi driver outside the wedding registry office, last week. This blog is about a potentially dangerous return to professional photography and it also describes different situations, mostly on tour with different bands, where my photography, directly or indirectly, has upset people. 
First, my chequered history, causing trouble with my camera.
I needed to dust off my old analog cameras and lenses last week for the first time in 12 years because a friend asked me to be the photographer at her wedding. I stopped using cameras around 2011 for many reasons. I had been working for about a year for Hot Press for a paltry sum of e35 a gig and hated that you had to leave the pit after 3 songs (the best photos happen during the last 3 surely!). It meant I got to see many cool bands, Smashing Pumpkins, Kings of Leon, Nick Cave, etc etc, but I was not enjoying my initial use of my newly purchased digital camera, as it didn't compare favourably to the grain and sense of 'softened' reality of film. But even up to that point, I had already endured a succession of unpleasant political, moral, and physiological issues whilst using my trusty old Canon F-1 film camera.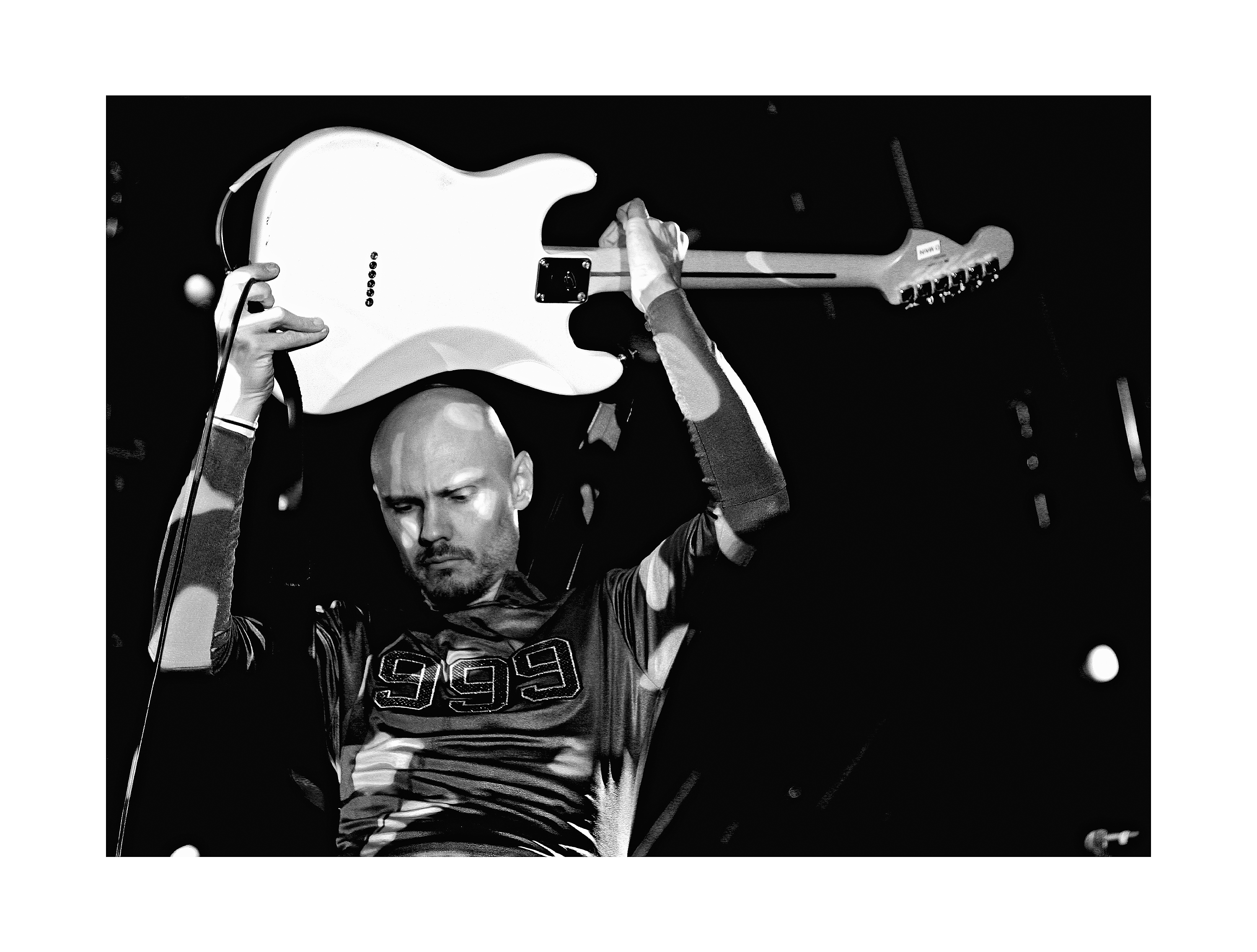 One of my Hot Press jobs... Smashing Pumpkins, RDS Dublin, 2008. Digital camera.
My felonies are listed as follows…
Security issues England post 9/11…
1. I was in Birmingham on tour with Josh Ritter in 2006, taking photo of a building. I was interviewed by task force police who interrogated me about the reasons why I was taking photos of buildings.
2. I was in Brighton, again on tour with Josh in 2006, on the pier, taking unusual photos of people in glass reflections, and was quizzed by security about my 'bizarre behaviour'.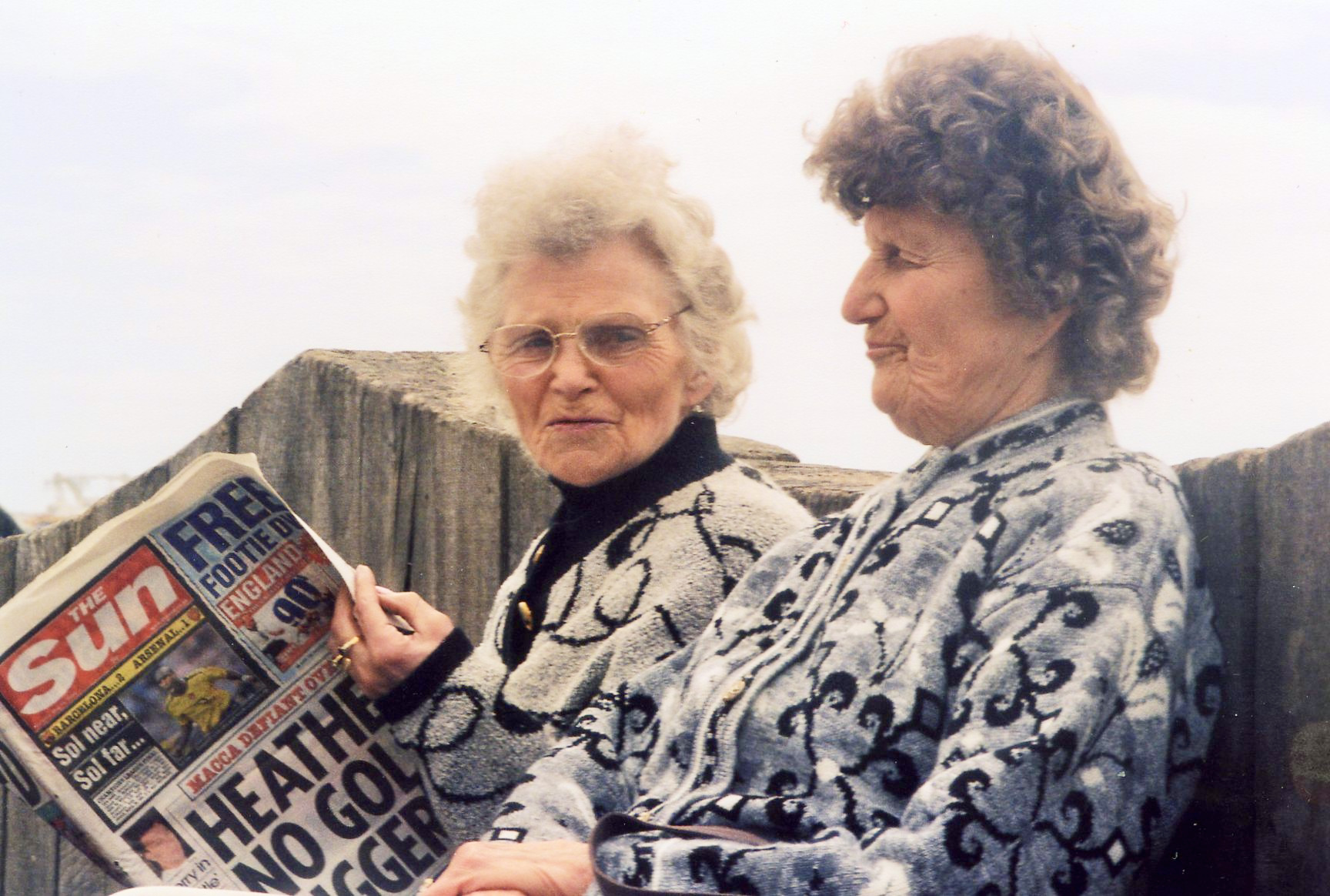 Two ladies, Brighton 2006. I took this from my waist at a guessed focus, f-stop, and shutter speed. Analogue film camera.
3. I was chased out of a shopping centre in Manchester in 2006 by an irate shop owner who accused me of taking a photo in their second hand clothes shop which, for them, somehow posed a security threat.
And some (de)moralising experiences in North America….
4. I hereby stand accused, by a fellow Frames band member at the Mexican Bordertown of Ciudad Juarez, of putting the whole band in danger of our lives by taking photo of a skeletal she-zombie drug addict shuffling towards our packed car. It was around the year 2000. He made me feel bad for even contemplating taking it. I said many important photos were taken to show people the harsh realities of the world.
5. I had an argument in a park in New York with an small angry Jewish lady around 2005. There was a homeless person sleeping outside under the window sill of an expensive silver service restaurant while a couple dined directly above him, but on the inside. She pointed out that this was not a photo I should have been taking. "Did it not occur to you to go over and offer to help him instead"? My point was that I was only documenting it and perhaps the story needed to be told for the sake of people like him if anything was to ever change. "Anyway, why don't you go over and help him?", I suggested, annoyed at a certain amount of hypocrisy that was apparent to me.
6. Later on the same tour of US and Canada with Josh Ritter, we arrived at a horrific and dramatic accident scene where a juggernaut had crashed into a train at a level crossing and had burst into flames due to the collision causing a petrol explosion. I just sat in the back of the van, not moving, with the rear view moralisers in the windscreen of my conscience. It seemed like everybody was safe and away from the danger. I desperately wanted to get out and take a photo of this hideously beautiful scene. But I didn't. It was deemed too dangerous. We eventually turned the car, feeling really disturbed by witnessing the event and found another route, the 'photo' being printed indelibly in our minds anyway.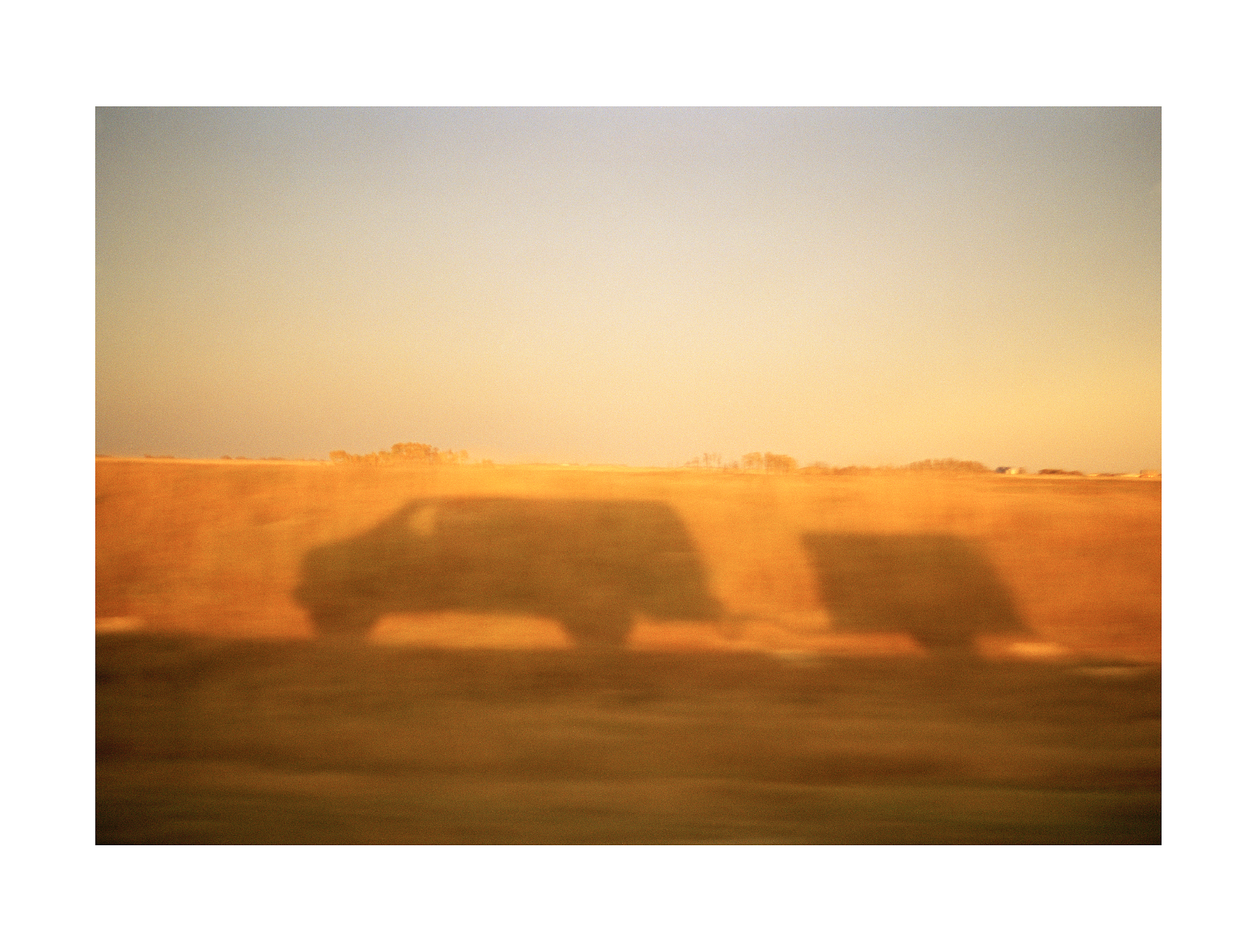 Cornfield Reflection, Saskachewan, Canada, 2004 . On the way to the accident that day. I'm proud of this as I took it from inside the van. Analogue film camera.
7. In 2006, I was thrown out of a Wig Store in Bonnaroo, Tennasee, for taking a photo of a wig wearing lady browsing the shelves of wigs. I know that this was maybe an invasion of her privacy but I think it's a beautiful photo of a beautiful scene and I feel…what harm? I might need to go back to that store myself soon to make a purchase! If they let me in, that is!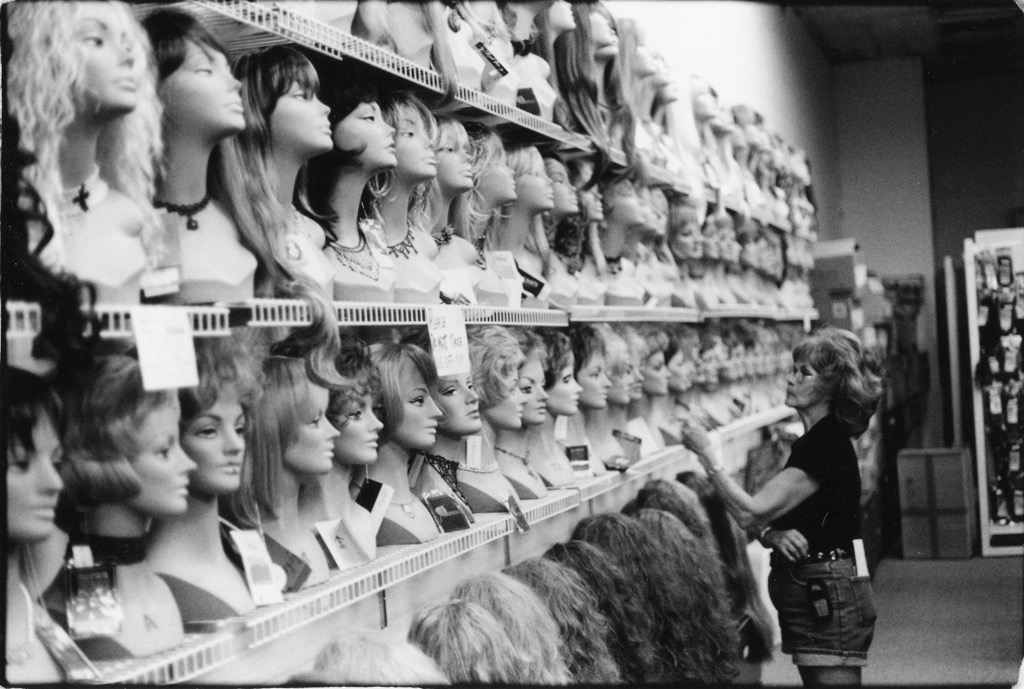 Wig Lady 2006. Analogue film camera.
The 'Physiological' experience that put me off professional photography was when I was going to The Electric Picnic festival to take photos for Hot Press in 2007. I was late and had a dicky tummy and ended up on a huge traffic jam on a new failed route they were trying, meandering around farms on tiny roads in daylight, a route which was toiletless and packed with hot cars. I felt a few stomach rushes as I sat there, still motionless. Urgently, I felt the need to go and 'pull down my pants and exterminate the ants' in a field but couldn't cos the cars were locked in together and I couldn't abandon mine in case we had an opportunity to move. The empty Lucozade bottle on the dash was no good to me this time. Legs crossed, I was trying to figure out the car pedals backwards. I wanted to turn around and go home but I couldn't as it was a one lane dirt track. I'm glad I suffered what I suffered and survived because I took my favourite ever gig photo that day that I am very proud of. A photo that ended up in a publication of The Louvre Museum in Paris no less! Iggy pop gyrating on top of an amp, not needing to go to the toilet. Third song in.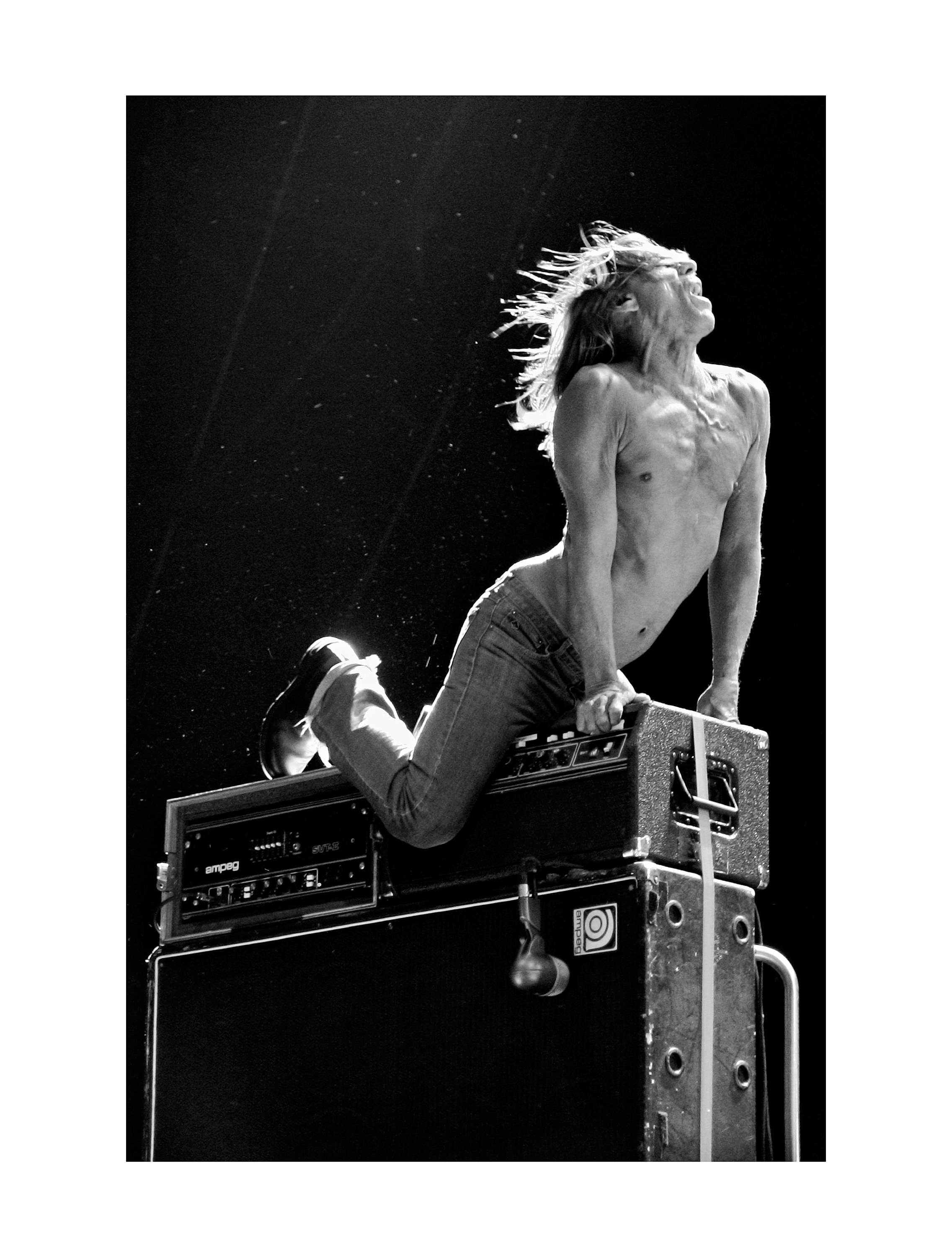 Iggy Pop, electric picnic, 2007. Digital camera.
Back to the present. The photography wedding job itself.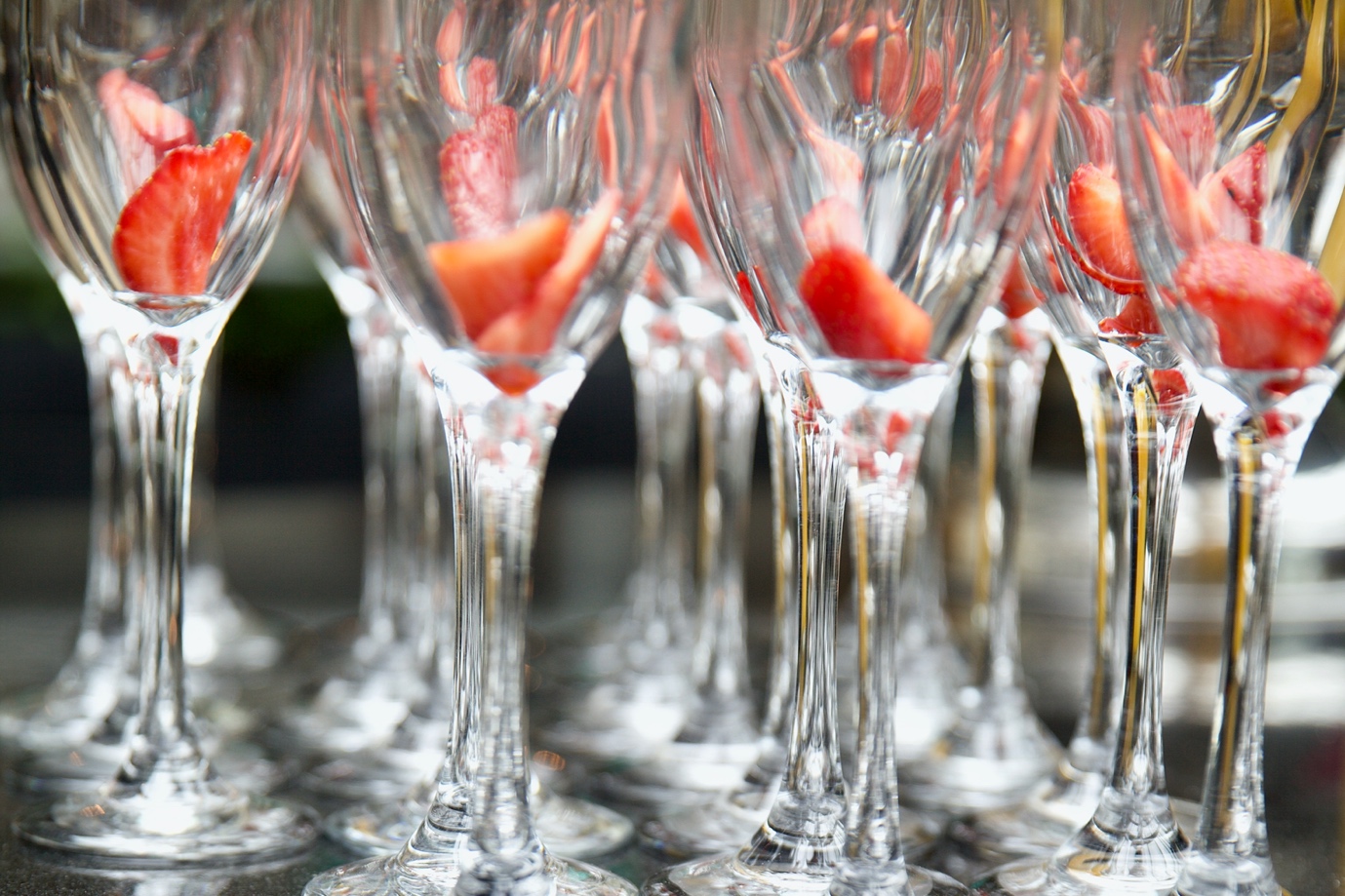 Did I really have that many? Beautiful food and drink at the wedding of Megan and Jerry last week. Digital camera.
Digital V Analogue
I have done a few 'fly on the wall' Rock N Roll weddings with varying degree of success. I took photos before at the weddings of Ann Marie Shields (Rollerskate Skinny/ My Bloody Valentine manager), Aidan Pierce ( Head Of Roland Ireland), Trevor Hutchinson ( The Waterboys and Lunasa) and Colm MacIoniomaire ( The Frames) and their lovely partners. This time it was Megan O Doherty ( Head of Rigging in the 3 Arena) and her beau, Jerry's turn. Beautiful people. They asked for some black and white film photos as well as digital and I got in touch with someone who seems to be the last known analogue camera fixer in Ireland, Declan from Rathmines. I know film has become hip again, and film and film processing is readily available again (although expensive). That delights me as I could never get the right effect with digital. It has been, and continues to be, too exact, too REAL! That's what the technological advancements have resulted in, in my opinion. And so, as it gets better, its gets worse. But Declan, one of the last of the analogue kings, was a font of information and I learned all about Medium Format cameras (the ones with bigger negatives) and the evolution of lenses. He also gave me the bad news that my beloved Canon A-1 and F-1 cameras, the early 80's cameras that you could famously roll a tank over, had too many days 'on the beach in Normandy', and were sadly, fucked! But my 'Pentacon 6' Medium Format camera that I got in Czech Republic in 1999 on a Frames tour had a better prognosis! Cant wait to try that again soon!
The Drama
On the day of the wedding, myself and my beautiful partner and assistant for the day ( she actually took more and better photos that I did) arrived early and were looking for a parking spot. I was stopped at the traffic lights just past the Registry office. I moved again on green, slowly looking for a place to park. This taxi driver behind me started beeping his tiny horn, so I lifted my middle finger up over the roof for him to know that I wasn't the type to be hurried. He rolled down his window as he passed outside me slowly and went apoplectic.
"Don't you fuckin stick your finger up to fuckin me or I'll fuckin break every fuckin finger in your body".
I winked at him as I turned left, to calm him down.
"Right, get out you fucker til I fuckin burst ya! Come on you bastard, get out and we'll see if you feel like winkin, when I'm done with ya", he roared like a man possessed.
While ranting, he was blocking the traffic behind him. Just sayin'.
"That went ok didn't it, Niamh"? I just kept driving calmly, continuing up that left turn as he continued straight, polluting the air with expletives. Then, I realised…. I was in the shortest, tightest Cul De Sac in Dublin and if he had one brain cell, or knew the city, he would have known I was in a tiny dead end with nowhere to go but to face up to him and his tiny gear stick. He was gone, with all the rage in the world trapped inside his car. This is someone representing of our public service by the way, public taxis. He is driving vulnerable people around the city, young people, elderly people, tourists, driving late at night I'm sure, full of pent up rage and anger. That's not good.
We felt very privileged to be at the wedding and had a ball, clicking away to our hearts content. We drank lots of champagne with strawberries in the glasses and some of the best Mojitos east of Bonnaroo! I took 10 rolls of black and white film ( delayed gratification right there, have to wait 10 days to get them back!) while Niamh backed me up with the Canon 5D digital, and she created a colourful story of a magical emotional day. The real hero for me was Declan the camera fixer, who lent me a camera at the last minute and filled me with the enthusiasm to keep going with the photography, and not get put off by practical obstacles, stuffy moralists, or traffic-causing explosions.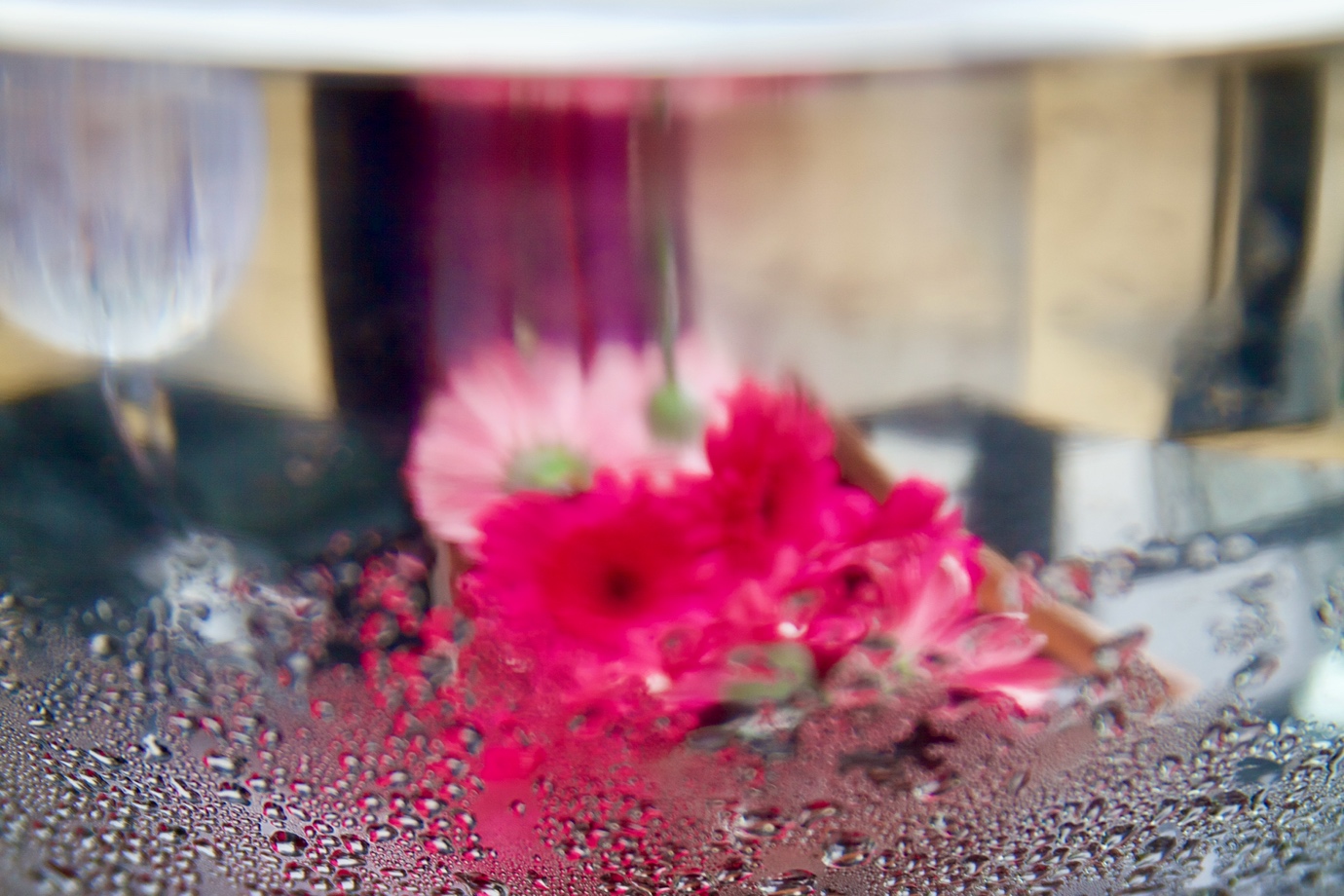 And a toast to you Megan and Jerry! Digital camera.