Dave Hingerty
The weirdness of making drum notes (on a session that I had a suspicion I wouldn't be doing).
December 08, 2022
'So, I'm upholding that promise and will learn the songs even though another drummer is doing the gigs presently. Madness I know, but I actually enjoy it. Headphones, great music, drums, pen and paper. Heavenly'.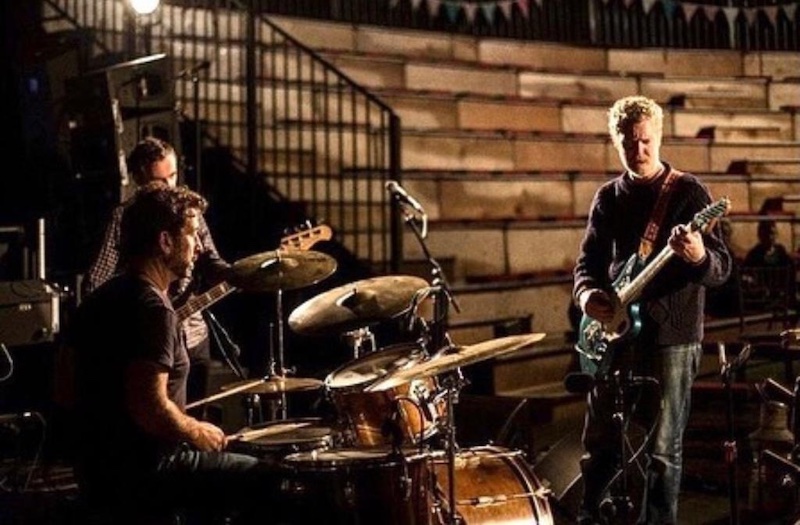 'My Minds Made Up' (or maybe not)
I found myself in the weird situation this week whereby Glen Hansard, who is playing really excellent new material on a small Irish tour at the moment, asked me to do a gig, and then changed his mind, and then asked me to do another 2 of the gigs on the tour…and then changed his mind again. No problem. Still going to learn the songs!
It's been a strange year musically. I think many of us can say that. So many positives though. The Side 4 project I started years ago is flourishing now, getting airplay abroad, and the first single of the second album (which you can play above) has just been released. It features the fantastical writing and playing talents of Mark Geary, Fiachna O Braonain, ROMY, and Colm Querney.
Apart from all the many Side 4 collaborators, I've been playing with talents that bowl me over with their songcraft and musicianship this year. Kila, Mundy, Barry McCormack, Bronagh Gallagher, Ross A, Mark Geary, Susan McKeown, Josh Johnson, Hege, Illywhacker, James Mahon/Michael Brunnock, and Max Greenwood. Kila, are doing amazing festival shows now, really illuminatingly brilliant, and we are putting the last few bits and bobs onto an exciting new album featuring a brass section. More on that soon…
A secret unreleased track from the Side 4 vaults. Can you identify the singer? The guitar was created by the incredible Conor Brady, surely one of the best Irish guitarists that ever lived! Same kind of description goes to Robbie Malone playing a rare slap bass here!
*For access to more unreleased Side 4 tracks you can sign up to my Patreon page.
The hardest aspect of the year though was being asked to play music that you love and then someone decides that "actually, I've changed my mind". This has happened to me 3 times this year. Big prestigious gigs. It makes me feel like totally re-inventing myself and emigrating to a new country, musically speaking. I'm so fed up with it. I should know better than investing too much hope here. There are many drummers who have felt heavy disappointment and insecurity working with certain Irish artists. I'm not the only one, for sure. I should be battle hardened and philosophical by now. And if I make a clamour, speak my mind, the door probably closes for good. Even writing about it is a danger.
You would think I am used to it. Disappointments and insecurities. It's the Music industry after all! A fair few nearly situations whereby I would have been playing more big tours with more big name bands over the years but were unfortunately not brought to fruition. I know I've already had and have tonnes of touring and great musical experiences that nearly every musician would give their right arm for. (Well maybe some other part of them…they might need their arm!). But there were a few that got away…
For example, just before Covid, I was asked to do a World Tour with The Cranberries. I don't even know how I would have managed it as I would not have liked to miss any Kila touring or recording. Noel Hogan from the band got in touch and said that the drummer with The Cranberries, who was retiring, asked could he do the first Dublin gig only, and then he would pass the baton to me. It was an acoustic/strings version of the band. I worked hard at preparing it. Then after that first show, the band cancelled the rest of the European Tour because of Dolores' bad back. Then when we were due to start the rest of the tour in US and Asia, Dolores sadly passed away.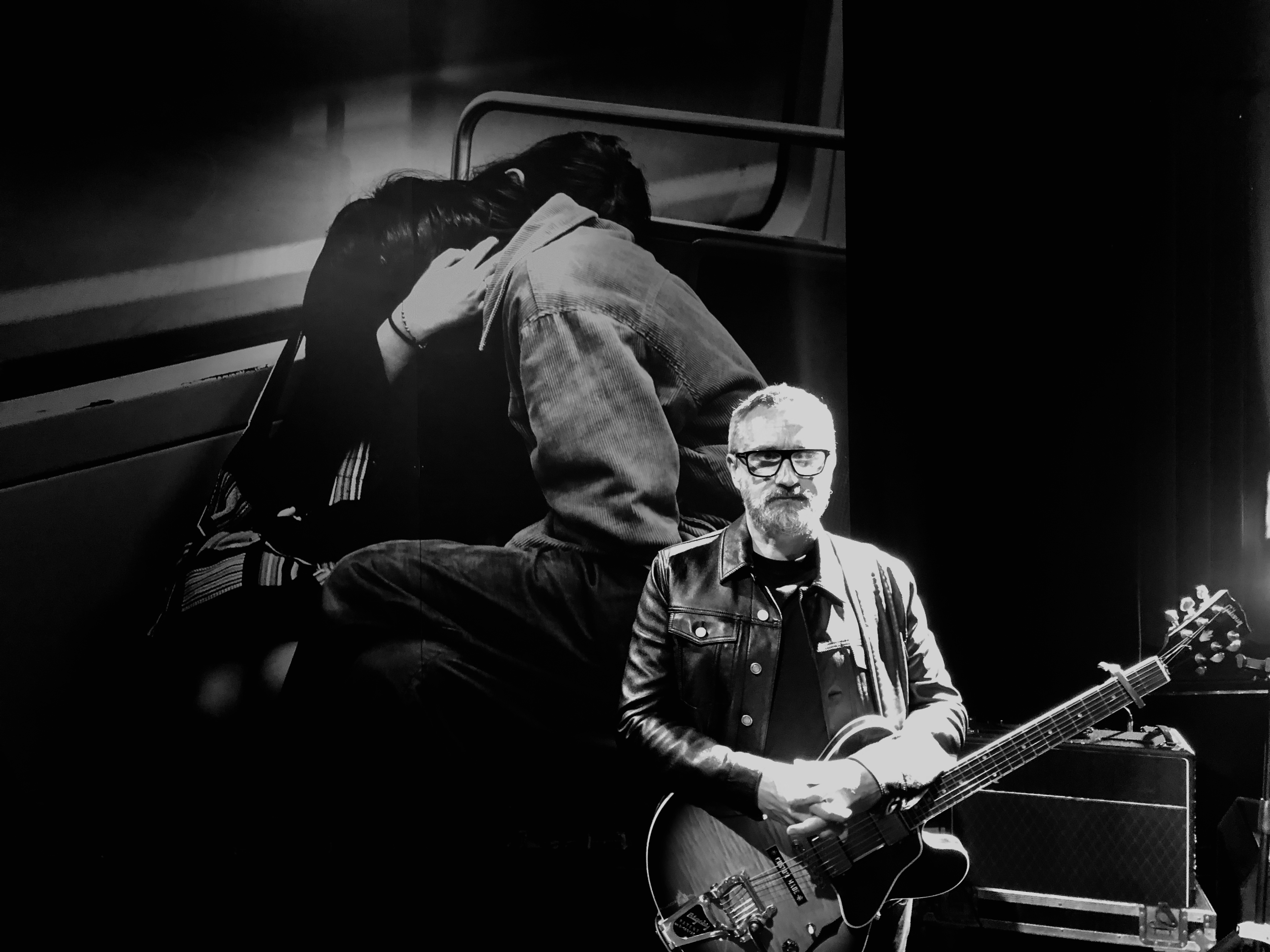 A photo I took of Noel Hogan of The Cranberries at The Late Late Show recently when we played with each other at last! He's a real gent.
A year later, I was asked to be in a special audition for David Gray, for his World Tour which is currently ongoing. I was one of 4 drummers auditioning over 2 days in London and I apparently was close to getting it, but they went for an English drummer. I had been sick with a mysterious virus and was on anti-biotics for it, coming from a gig in Holland with little sleep. I did my best.
There was also the audition with the incredible Belgian band Deus, in around 2005 when I was just finished with the Frames. We were all huge fans of theirs and supported them in the Olympia. But same thing. Big auditions in Antwerp and I was pipped to the post by a Belgian drummer who was a friend of the bass players and who was jamming the songs for months in preparation with said bass player.
I found these Glen Hansard band session notes from The European Tour in 2019. Mysterious hieroglyphics!
In the meantime, I found myself (as I had promised Glen before he changed his mind) learning the songs, making the session notes, and even buying some drum gear to have the right kind of sound (never wasted). So, I'm upholding that promise and will learn the songs even though another drummer is doing the gigs presently. Madness I know, but I actually enjoy it. Headphones, great music, drums, pen and paper. Heavenly.
The wildness of the Frames gigs!
I miss the wildness of the Frames gigs. That was the essence of the live show in my day. The sheer unpredictability of it all. We didn't know what sudden left turn we might take and it had us and the audience on edge! We had great telepathy 95% of the time. Incredibly exciting live band. I'm incredibly proud of my time in the band. It's a tough gig in some respects due to the different feels of the drummers, including myself, over the years. At this level, the important thing to have as a drummer is good time, sound, technique and feel. The last one you can't do much about, feel, and yet its probably the most important. It's your personality and attitude. Hard to define but it can be of paramount importance. It can be the deciding factor in music auditions. And indeed, for life's great auditions.