Dave Hingerty
Hairy (and hair raising!) football stories
December 19, 2022
Someone on the coach noticed I had 25 spare tickets that the company asked me to tout outside the Stadio Olimpico which was surrounded by police horses and helicopters. I asked this large tough streetwise red haired Dubliner to help me sell them.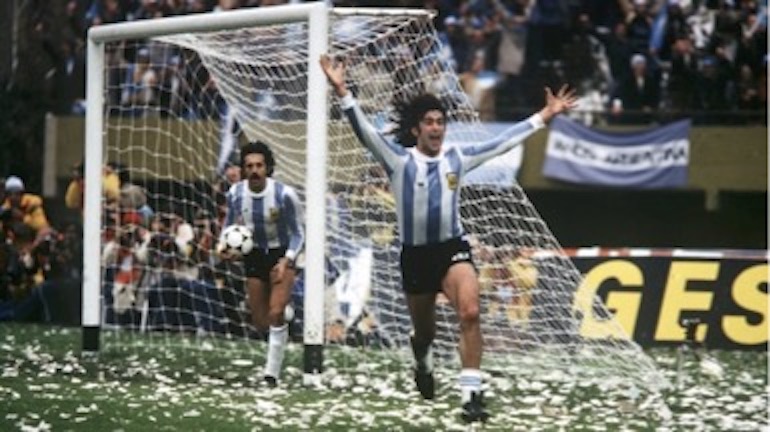 "Hooray!", said Mario Kempes after scoring against Holland in the 'Ticker Tape Final' in 1978. A tournament not without its politics!
So, here we are, the day after the 22nd World Cup final in Qatar between Argentina and France, and it was (eventually) a thriller! Argentina are the football champions of the world! Tough, hard running and unsentimental too! I watched the whole tournament like I was a kid again, and it filled me with wonder and awe. Football was my first love, even before my Dad brought me a Brazil strip, from Brazil, for my 10th birthday. The First World Cup final I remember was in 1978 in Buenos Aires. Argentina 3-1 Holland. It was dubbed the 'Ticker Tape Final' starring the long streaky hairy hippy Argentinians Kempes, Luque, Ardiles, and Passerella. I thought it was so exotic! I was mesmerised.
I was a very average footballer, but had good acceleration, good stamina, and was a good tackler. Got a bit of that from my Dad, who was an infamously ferocious tackler as a wing forward rugby player for Leinster and Ireland. My claim to fame was that I played for 2 football clubs that Paul McGrath played for. No, not Manchester United or Aston Villa, good guess. But Dalkey United and Pearse Rovers. I played for the latter all through my mid 20's and early 30's and any band I ever played with was concerned that I would injure myself playing in the famously tough Leinster Senior League and therefore miss several gigs. "Music and football don't go together", they said. I remember, for example, trying to avoid slide tackles on the glass and poo strewn pitch in the infamously hostile 'San Siro' in Ballymun, where you felt like there were snipers in all four surrounding flats, taking aim. We were too scared to win. And the poor ref was petrified we would win. Now and again a piebald pony and bareback cowboy would ride across the pitch during the game to the delight of the locals. I didn't notice much of that in Qatar!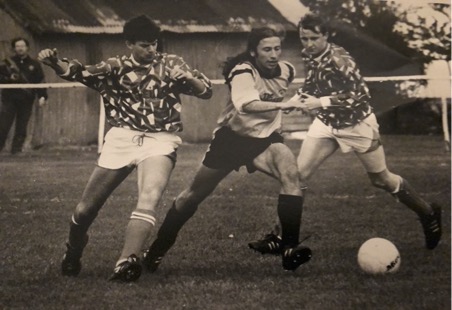 'Move over Rover'! The not so exotic playing fields of the Leinster Senior league, circa '96
I think I joined Rovers because they were a hard working class team and I was a 'dopey hippy poshey yuppy', as they called me back then. I rejected my middle class Killiney upbringing, or at least wanted to try and balance my life influences by identifying with this type of social club that had a strong sense of community. I overdid the physical side on the pitch to try to prove I wasn't a softie! I remember one player getting so pissed off with me that he pulled my long ponytail as we both jumped up for the ball, and 'threw me roughly to the ground'. No yellow card for that.. in that league... in those days! Another game was against Crumlin United, and one player kicked me in the head so hard, a lump like an egg grew immediately out of my forehead as I lay on my back, looking skyward as little tweety birds went circling around my dazed head. Players came and went after seeing my head, going "oh my God…I can't look". And they were supposed to be the tough ones! I left the pitch and went home on the bus, trying to push the 'egg' back in.
This is one of the unused tickets for the quarter final of Italia '90 that wasn't sold! Worth a fortune then, and possibly still is!
My big football story from The 1990 World Cup was hair raising. People would have killed for tickets back then, or they certainly would have sold their house to be there. There was nationwide hysteria about this valiant set of mercenary despots/brilliant footballers with grannies from all sorts of places. And there was Paul McGrath. My sister worked in a travel agency and asked myself and my other sister to fly to Rome and help chaperone a group of Irish football supporters to and from the stadium on that famous night for 'Jackies Army'. The day of this quarter final against Italy, I was given about 50 tickets, 25 too many. I took a taxi to the hotel to meet the coach and bring the fans to the game. The taxi crashed on the way and I bruised my ribs, but I ran to get another while the driver was still arguing and shouting. I was in a lot of pain. When I arrived late at the hotel, I dished out the tickets to the fans who were angry as the coach was also late and there were other issues. Someone on the coach noticed I had 25 spare tickets that the company asked me to tout outside the stadium which was surrounded by police horses and helicopters. I asked this large tough streetwise red-haired Dubliner to help me sell them. He was brilliant. Sold them all in about 30 mins. The only problem was… I lost him in the crowd. He had all the money from the freshly sold tickets. The match was incredible of course and even though we lost 1-0, the 4 corners of the stadium were painted green, white and gold as we sung our lungs out at least 40 minutes after the game finished. It's the only time I ever heard about visiting fans being cheered by home fans who turned to face and applaud and sing to us at the end of the match. The mutual appreciation was magical even afterwards in the street with flag swopping, cars honking, vespas swerving, and wine spilling. I visited his hotel the next day and camped outside his room and when he came out he agreed to give me half the proceeds, the other half for all the inconveniences he supposedly had! 'One in the hand is worth 2 in the bush', as my friend Steve Hodgins says! So I took the 500,000 lire.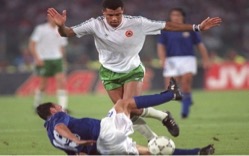 Paul McGrath, a deity of sorts, ceremoniously dumping Mr Golden Ball, Salvatore Schillaci, in the World Cup quarter Final Vs Italy in 1990
The funniest story relating to music and football came around when I was with The Frames playing a gig in Leeds in 1999, the same night as the Champions League final between Manchester United and Bayern Munich. After the soundcheck Mark E Smith, the singer with main act, The Fall, chased Glen out of the shared dressing room, screaming at him. Mark E was in a bad mood because he lost his dentures apparently. I was a supporter of Man United at the time. (At the time, I hear you say??? 'You can't unsupport a team", as my friend Tom Skerrit keeps reminding me!) Anyway, we all went to look for a pub in Leeds city centre that might show the game that would win United 'the treble'. "I'll put it on… but if 'Scum' score, it's going off", said the reluctant barman with a Yorkshire drawl. Well United politely didn't score …until 'injury time' when they scored not one, but 2 very late goals to win it. For a few minutes, I had the sweaty dilemma of not knowing whether to stay to watch extra time if it was played…or to do the gig! But the second goal made it 2-1 and so there was no need for extra time. What was I like back then? Glen was quite rightly already onstage and started the gig by the time I got back!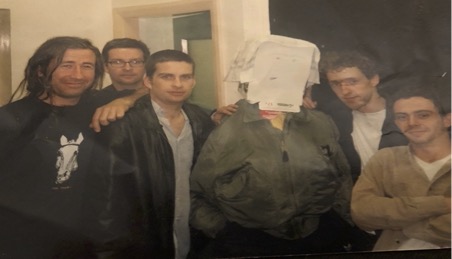 Improvised photo shoot! The Frames on tour in UK. Glen's head was wrecked with all the football being watched! And I wouldn't blame him!
I understand if people hate football and can't get the fuss about loads of players running around after a roundy piece of leather. But football has always been a vital escape for me from the troubles of life…for the troubles of my mind. It's been a haven and a 'head holiday', a place to indulge in the artistry of incredibly talented sports stars. It being a haven is true of both playing games and watching games. The amount of nights I fell asleep rewatching 'videos in my mind' of games I played in, acting as a balm and soothing escape to the troubles or anxieties that competed for my attention. It's also been a subtle bridge that has helped ease a difficult family time. All my sons love football and have a real talent for it and I loved coaching them over the years. But this last couple of years, meeting up with my son Dan in particular has been augmented by watching football games together. He is a massive Arsenal fan, long suffering ( my fault for that !) but this season we have been having such craic, roaring at the TV and celebrating together as Arsenal sit top of the table. A chance to be daft and melodramatic. Football fans and footballers know deep down where it lies in the order of life's priorities. First!
Seriously though, he is a young man way beyond his years, able to make everyone feel supported and loved and not judged, at a difficult family time. He is so perceptive, considerate, philosophical, and polite. "If only manners were a currency, he'd be rich", as his Godfather and our great friend Paul Cantwell said about him last week. Anyway we shouted and roared and laughed and debated (and betted, well done again Louie!) our way through this great World Cup. The World Cup of the underdogs! Nearly everybody and every team and fan seemed to go home with pride from some heroic performance, giant killing act, or unexpected success. Hopefully the Qatari people can take something from all the humility, sense of gamesmanship, soul, song, costume, charity and community that tends to run through this sport. The politics in football at every level will continue to disappoint us. I was myself bullied as a coach by a few parents when coaching my son's team, even though I had great dedication to it (and a few FAI coaching badges). It's the ugly side. But the joy it gives, and the distraction, even if momentary, from the pain of life, gives us reason to keep loving it and celebrate it.
Some people believe football is a matter of life and death, I am very disappointed with that attitude. I can assure you it is much, much more important than that.
Bill Shankly