Dave Hingerty
The Diary of a drummer... one typically untypical week in my life.
March 29, 2023
I once stole a friend's diary when I was about 14 and ran off with it but I never read it and returned it the same day. I just did it to tease her 'cos I was a little shit. But it is my humble opinion that you should never read someone's personal diary. (So you really shouldn't be reading this!).
Monday
My Colonoscopy procedure in St Michaels Hospital. I got in for 7.40 am, filled out the forms and got undressed and put my gown on backwards, which the nurse found hilarious. Then they fed me a lovely sedative through a drip. I was aware of my surroundings just long enough to know that something large was being pushed into my no go zone, and just as I settled down side-on to watch the monitor footage of this plucky little camera, it all got very fuzzy indeed! My head that is, not the monitor. At least I didn't feel that awful burst of air that fills your lungs with what felt like TNT the last time. Afterwards, I received a cup of tea and slice of toast from the heaven and the surgeon told me afterwards that there were no pre-cancerous polyps this time (there were 4 years ago), and deftly spun on his heels to leave. "Wait!" I said, "Is that it? But what about my issues?" He already was gone on to the next patient. These guys do not do small talk. My partner and one year old daughter collected me afterwards and we celebrated by buying the most expensive things we could find in a deli and had a picnic lunch and seaside walk in the freezing wind. "Great to be alive", I shouted. Food never tasted as good after the 24 hr fasting but the euphoria was attached to the feeling of huge relief of getting another few yards along 'snipers alley'. And indeed not having anything at all up my alley.
Note to self: Don't delay serious health worries.
Tuesday
A meeting with a band who have a very difficult scenario facing them. I don't know if it's a weird psychological symptom of Long Covid that we have but there seems to be a lot of social and interpersonal strife between us human beings. We were almost given police like duties while distancing. "Wear your mask!". "Step back to the 2m line!". "Don't Breathe!". And maybe it's the fact that we have gotten used to communicating non face to face and get a bit more righteous and feisty behind keyboards. It doesn't work well for bands.
Note to us: Talk more, type less.
Wednesday
We rushed to hospital with our 1 year old daughter who seemed to have eaten the little conditioner pellets for the washing machine just before the school run. "She'll be well conditioned going forward so", quipped my cousin Stephen! But that morning we went into emergency mode. She was loving me driving like Starsky on the M50 laughing at the back of my anxious head, and singing her usual made-y up songs while we were as tense as steel. Thankfully she stayed in great form throughout the day and the doctors sent us home after tests and observation. I'm sure she's eaten worse! I'm sure that product even shares some of the same chemicals that are in your average American snack. And I'm still alive!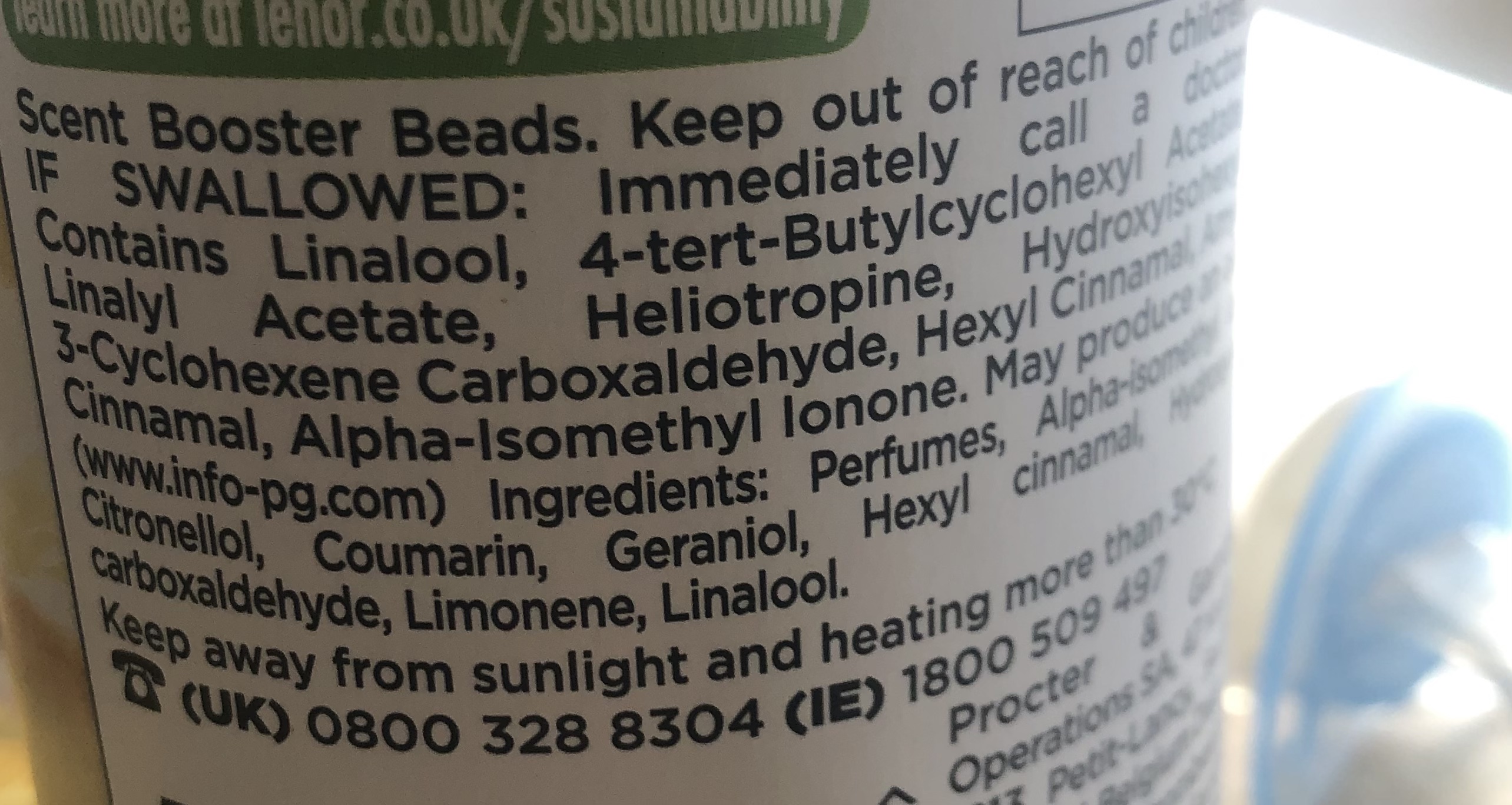 'Booster Beads'... it certainly turbo boosted me all the way to Tallaght Hospital that morning.
Note to everyone: We never stop worrying about our kids no matter what age they are, but if we do, its time for them to start worrying about us.
Thursday
Todays recording session is with Bell-X-1 legend and composer maestro Brian Crosby who graced the first Side 4 Collective record with the beautiful piece Cloths Of Heaven that included a sample from the late great speaker and philosopher Sir Ken Robinson. He is working on an RTE signature tune and needs a good few takes of grooves and fills to a particular piece of music. The reason why this was a particularly interesting session was that Ray Harmon (of Something Happens) was there and he is composing for famous TV shows, and Brian does a lot of soundtrack and jingle work. Phil Hayes was making it all sound fantastic. Robbie Malone, bass player with David Gray and Bronagh Gallagher, was joining us for this one. I love Robbie, he is bubbling over with positivity, energy and humour. Quite good at bass too!. This track needed a modern ballsy kit and a steady heavy pop drumming style and we managed that thanks to my Gretsch Brooklyn kit and a low tuned Ludwig Black Beauty with its shiny gun metal.. I also brought loads of percussion..bell tree, tambourines, low triangle, guiro, chochalco, claves, kitchen sink.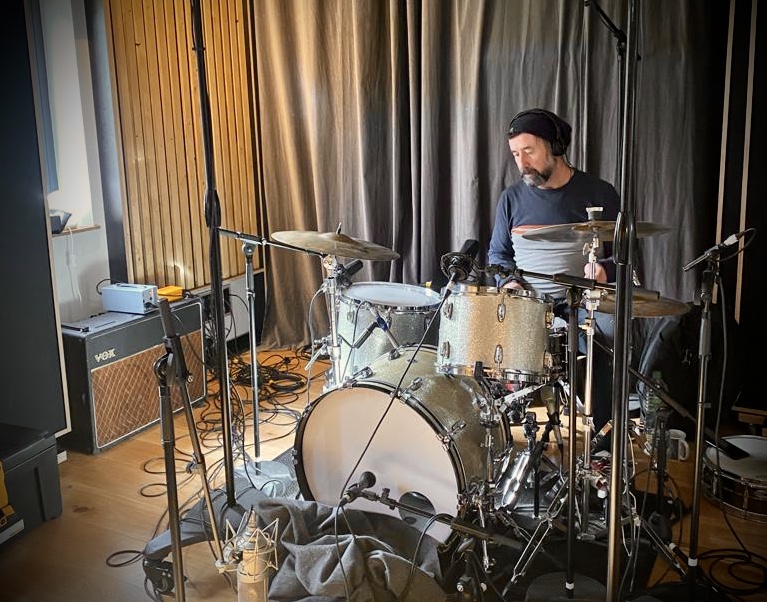 Recording jingles in Treehouse Studios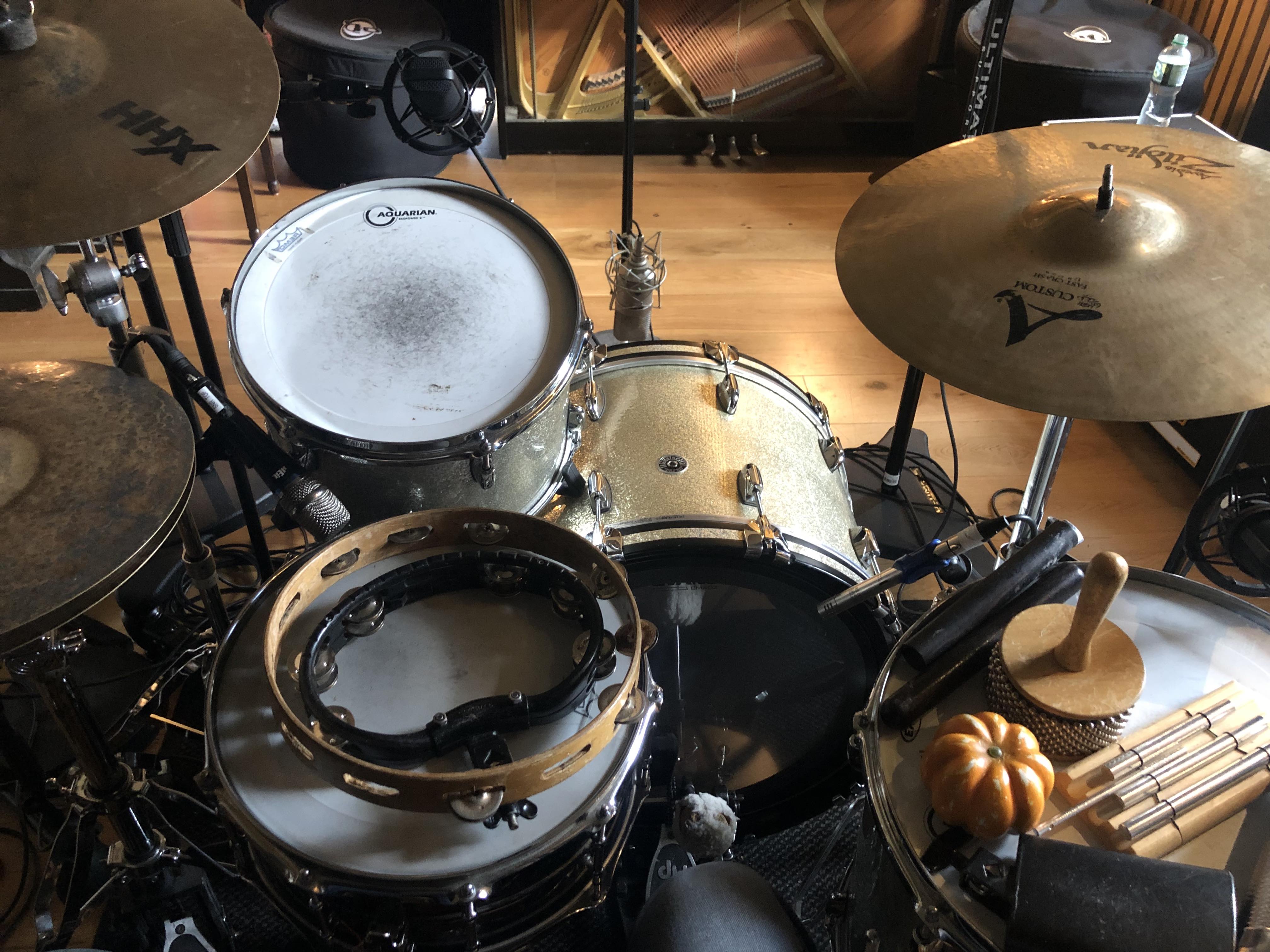 Gretsch Brooklyn Kit with percussion options for overdubs. That 'Sheep's Arse' bass drum pedal beater went through my bass drum head at a gig the next day!
Friday
Another day lecturing drums in BIMM University on Francis St in The Liberties in Dublin. This is where my grandad Christy MacMahon grew up and where he was in a brass section with his brothers. When he married Molly, a lovely piano player herself, they moved to Drumcondra. (It was there he introduced me to gambling, sending me down on my own to the bookies to put 5p on some horse. I was about 4!). Anyway its lovely to continue the art of teaching that my Dad passed down and in an area that my Grandad grew up. For me teaching is about hanging out with and guiding and giving encouragement and freedom to young drummers! Weirdly, I am teaching them everything I know and essentially getting them ready to take drumming work from me!! "The hedge-sparrow fed the cuckoo so long /That it had it head bit off by it young", as The Fool said warning Shakespeare's King Lear about over-nurturing and giving away too much of yourself. Anyway, this week I was getting them ready to do their exams. The time flies by as we tackle different rhythmic challenges in a reduction/expansion method.They are all of different abilities but they all have something unique to give. If they were horses I'd back them all!

Note to self; Try to follow paths to make our ancestors proud. Apart from maybe gambling!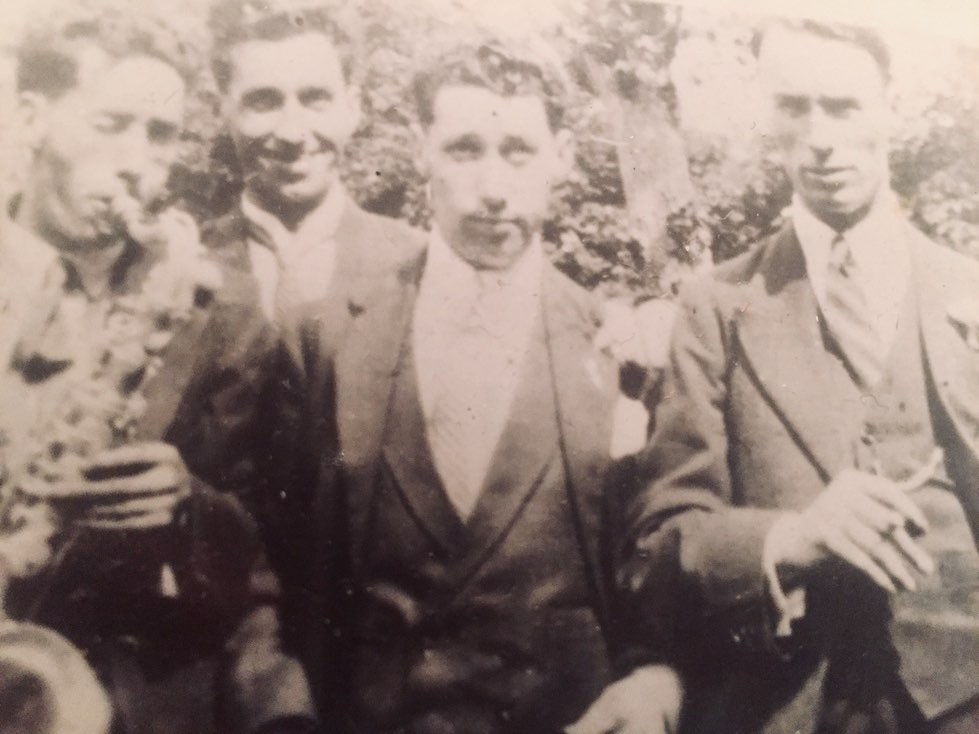 Christy (far right) and his brothers in The Liberties.
Saturday
Drum practice and preparation of 2 Recordings sessions. I love practicing the drums! As soon as I sit down and hit one drum I go wow! The sound is what I fell in love with 5,000 full moons ago. I have a great set up in a big old warm house with some ghosts that I cant hear cos im practising so loud. I had a few hours spare and wanted to get ready for these sessions. One session next week is with a fine singer-songwriter called John Hegarty. He sent me demos and even put down drum parts himself so I could get an idea of what he wanted. I used to get freaked out when singers tried to show me how to approach the drumming in a song. But not anymore. As long as they let me show them how to sing the song. But seriously, it really helps getting this perspective. Seeing as he wants to replace his own drum tracking next week, I thought about what I could do to augment what was there. I could add some unique textures and sounds with my own vintage drums and a couple of jazz like phrasings. A marching figure maybe. Oh, and a wooden tambourine for an overdub! Who doesn't love an old wooden tambo?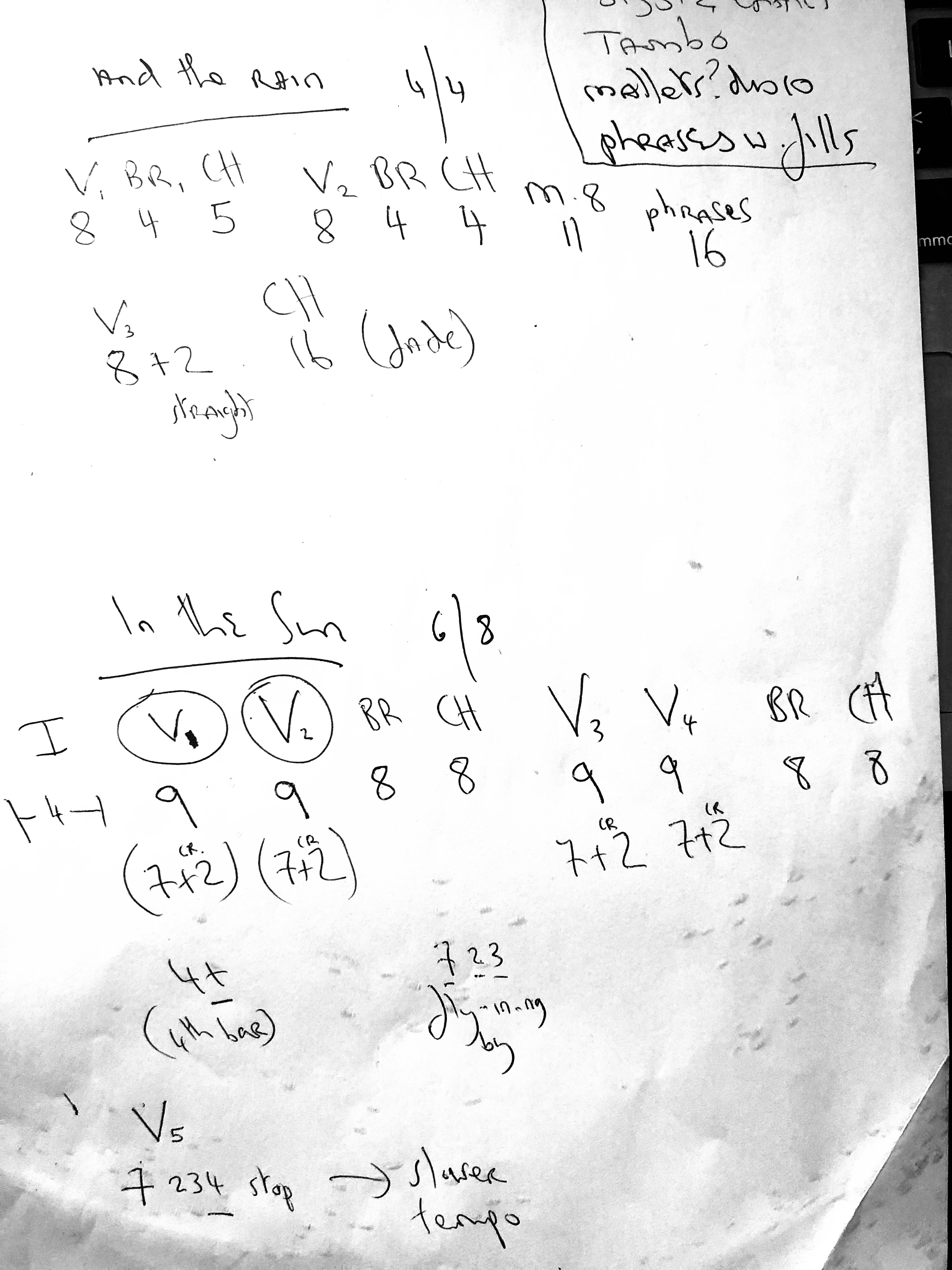 Drum Session Notes for John Hegarty
Sunday
Finishing editing a video for Mark Geary's song 'Drowning'. The challenge was to marry some water themed footage of Mark in his rural surrounds to some sea/underwater experiments I was trying separately. And learn how to use Final Cut Pro video editing suite properly. Old dogs hate new tricks. But new dogs like old tricks, dont they?

Anyway, having all these wonderful visual clips is one thing, but putting them together to make an emotionally affecting video that enhances the impact of the song is hard. And I couldn't have gotten through it without Alan Doherty, magic flute player/musician/composer, and brilliant video maker. Luckily for me (not him) we work together in the same big warm house with the ghosts. I like ghosts. They keep me company in scary big old houses at night while I refine my ideas and let any stresses from the day dissolve into nothingness.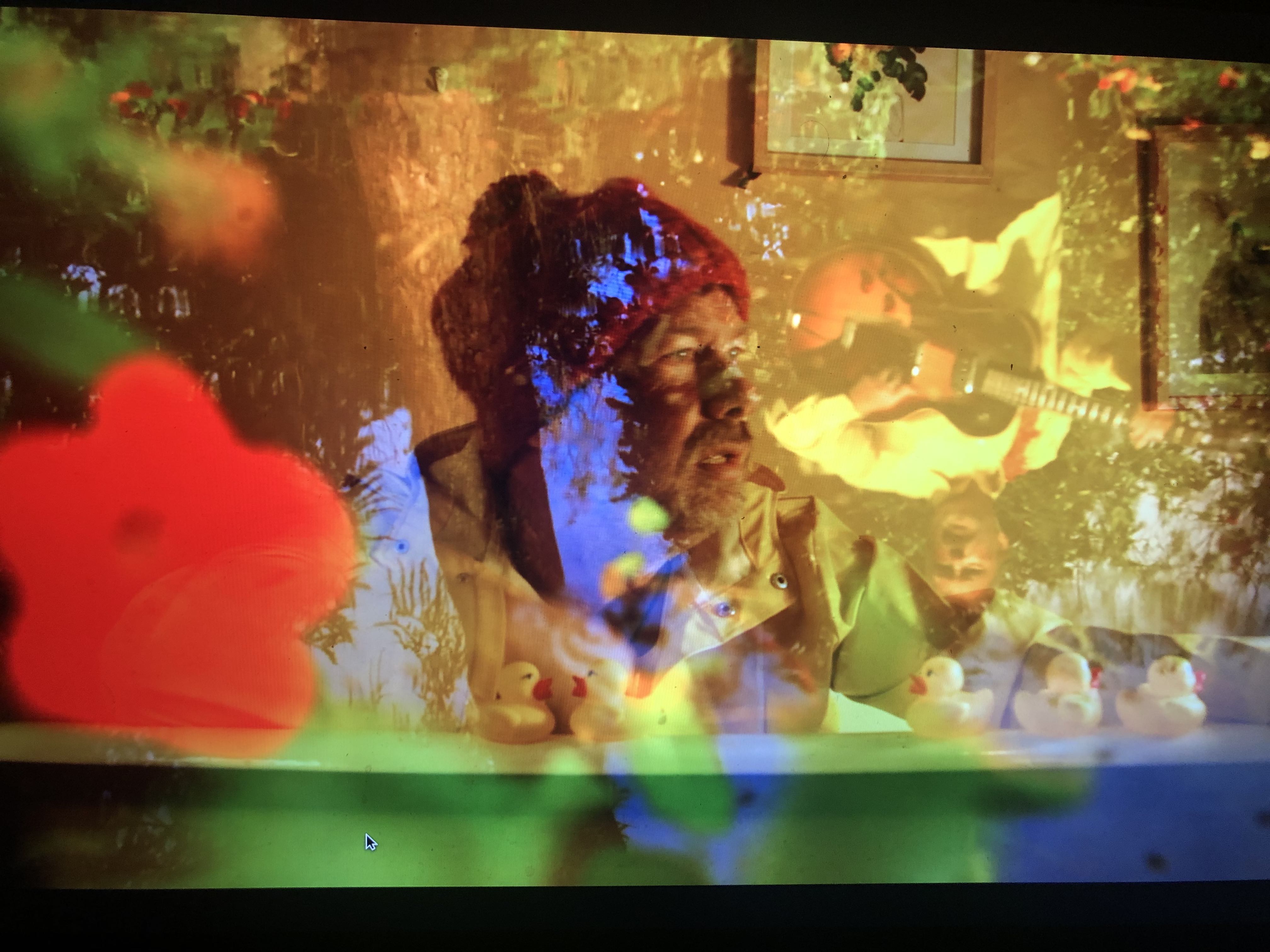 Getting psychedelic with Marks video...What ya mean I've gone too far?
Note to self. When your intuition tells you you have a good idea, go all the way to try to finish it.